A short distance from Hengistbury Head is the fine Southbourne beach. Due to its distance from central Bournemouth, this beach is usually less crowded and less hectic than the main beaches. Along with nearby Fishermans Walk, Southbourne beach possesses the coveted Blue Flag.
A Blue Flag Beach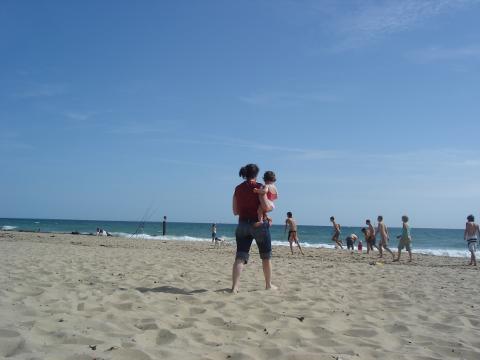 A Blue Flag guarantees the beach is very clean and the sea essentially free from pollution. The recent beach replenishment at Fishermans walk has had a good effect on Southbourne beach as well with the beach now widening and also losing some of its previous stony composition. The cliffs behind the beach get significantly lower the further East you go and pedestrian access is easier.
The once very popular Bistro on the beach has recently been demolished with a replacement planned for 2024. Until then the council is hoping to have "pop-up" food stalls available through the summer period of 2022 and 2023.
Access is also available at a number of different points. The nearest access from Bournemouth is down the Gordon ZigZag, which is half way between Southbourne Beach and Fishermans Walk.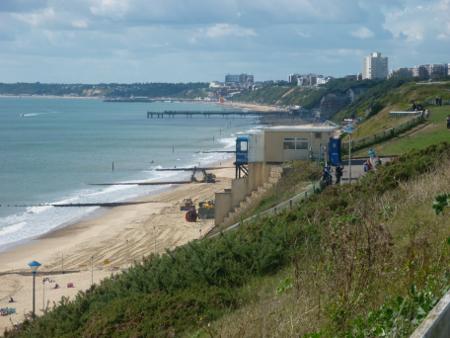 Southbourne Beach is intended as a safe and friendly family beach. The LV KidZone scheme runs through the summer months and smoking on the beach is banned.
Dog Friendly Beach Area
Southbourne Beach has a specially demarcated area where owners can exercise their dogs through the summer. It should be stated though that dogs on this beach should be under control at all times. Owners must clear up after their pets as the same beach area is often used by children.
Dogs are only excluded from the beach during the Spring/Summer months. They are allowed on all of the beach during the Autumn/Winter period 1st October through to 30th April.
Dogs should be kept on a lead when on the promenade or on the ZigZags.
The beach has toilets toilets and an information centre. In summer the beach is patrolled by RNLI lifeguards.
Southbourne Beach Parking
Warren Edge Car Park
Postcode: BH6 4BE
The main car park is known as Warren Edge car park. This car park holds around 180 vehicles. It is very close to the beach with fairly easy beach access down a long ramp. There is also some road parking (approximately 70 cars) along the Southbourne Coast Road immediately above Warren Edge car park. There is also another car immediately across the road on the landward side however this car park is verging on dereliction and there are plans to build (yet more) flats on it. So it may not be available.
Solent Beach Car Park. Hengistbury Head
Postcode: BH6 4DX
This car park is actually for nearby Hengistbury Head, but it is a short walk along the beach or road to Southbourne beach. This car park holds around 550 vehicles.