If you have young children, Alum Chine Beach is the place to be. All the major Bournemouth beaches have a KidZone scheme, but this beach goes a little bit further to cater for young children. There is a large playground with an adventure playground attached as well as a fine sandy beach. This beach is The last beach in Bournemouth. Immediately to the west is the first beach in Poole: Branksome Dene Beach. To the East is Middle Chine beach followed by the ever popular Durley Chine Beach.
Alum Chine beach also provides another unique feature for the older visitor with a sub tropical garden. Due to the benign micro climate along this part of the UK coast, it is possible to grow many exotic species of plant and tree that would normally be only found in on a more southerly latitude. The tropical garden is at the back of the beach. It is immediately above the children's play ground and provides a beautiful view out over the Solent.
Alum Chine – A Blue Flag Beach
There's also has a great number of beach huts to rent and a large car park. The final icing on the cake is this beach is one of the four Bournemouth beaches that holds a blue flag award. The blue flag award is an international award given to beaches that are exceptionally clean and environmentally friendly. Alum Chine has possessed this award for many years. If I remember correctly, it was the first Bournemouth beach to achieve the award.
There is an Italian restaurant and numerous ice cream vendors and takeaway food outlets. Be aware the car park can fill quickly during the busy summer period. There is also a regular bus service (Yellow buses 2A and 2B). These buses follow different routes through Bournemouth taking in many of the local areas. Both end up in Kinson. They run hourly during the day.
Alum Chine: Parking
I believe this is correct but it is not guaranteed. It is provided as-is. Take it or leave it.
Closest Car Park Post Code: BH4 8HS
If you want to park up then the nearest parking to Alum Chine Beach is a small car park of about 105 spaces. A few of these spaces (five at last count) are reserved for disabled parking. You will find this car park approximately 200 yards further on from the post code BH4 8HS. There is a curved cul-de-sac that leads to the car park. In the summer months this car park fills quickly. As I remember there was free street parking on the road leading into the car park. For obvious reasons this fills almost immediately in the morning.
Alum Chine and Winston Churchill
Back in the 1893 the young Winston Churchill, aged 18 very nearly lost his life at Alum Chine. He was holidaying over Christmas with his aunt Lady Wimborne. She was the owner of Alum Chine and a great deal of other land and property in the Bournemouth area.
The young Winston was out playing a game of hide and seek with younger brother and a cousin. He was half was across a long bridge that used span the deep gulley in Alum Chine. To avoid capture he decided to jump off into a nearby tree. He missed and fell 30 feet to the ground. Unconscious and bleeding internally Winston Churchill lay on the ground for some time while the other boys summoned help. He was in a coma for three days and suffered a ruptured kidney and concussion among other less life threatening injuries.
There is some dispute as to whether this accident happened at Alum Chine or Branksome Dene. Some years later Churchill recalled it as having happened at Branksome Dene but a number of the servants and others who actually recovered the comatose Churchill stated that it occurred at Alum Chine.
Alum Chine and Robert Louis Stevenson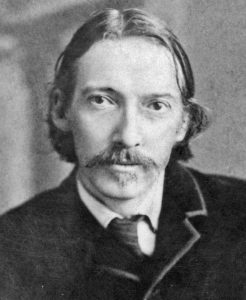 The great writer Robert Louis Stevenson lived at Westbourne and very close to Alum Chine for three years from 1884. Here in a house called 'Skerryvore' he wrote his most important works: Treasure Island, Kidnapped and the Strange Case of Dr Jekyll and Mr Hyde. Stevenson was very ill during this period and was for long periods bed-ridden. However another notable Bournemouth resident, the great writer Henry James was a regular visitor and dinner guest during this period.
After the death of his father and during a period of recovery Stevenson moved to the USA and then on to Samoa where he sadly died aged only 44.
In November 1940 during a night raid Skerryvore was destroyed by bombing. In total on that night 53 Bournemouth residents lost their lives. Today the site of Skerryvore is a memorial garden dedicated to the memory of Robert Loius Stevenson and is open to the public. It is at the junction of RL Stevenson Avenue and Alum Chine Road.