If you travel east along the promenade from Durley Chine you arrive at the smaller and more sedate Middle Chine Beach. Middle Chine beach has a Dog Friendly area just next to Durley Chine. Personally I regard Middle Chine as equally as fine as the either of the two Chines either side of it.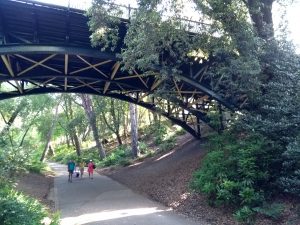 Further more, Middle Chine has easier access. Parking for this beach is along the road at the top and foot access is by walking through the picturesque Chine valley itself. Although on a slope, there is a minimum of steps compared to (say) the equivalent access from West Overcliff Drive to Durley Chine. Though, of course, you can access Durley Chine Beach from the road above, without enduring masses of steps from the road, by walking through the car park at Durley Chine.
Chines and Bunnys
A Chine is a river or stream formed gorge with steep sides. They are particularly prevalent in this area of the country. Places with chines range from Seaton Chine in Devon though to Shaklin Chine of the Isle of Wight.
Natural chines are constantly changing from river based erosion. This has led (naturally) the almost complete destruction of Blackgang Chine on the Isle of Wight. Today "Blackgang Chine" is used in reference to a funfair a few miles away from where the original Chine used to be.
Hampshire also many Chines but here they are called "Bunnys" aka Chewton Bunny. But Geologically they are exactly the same phenomena.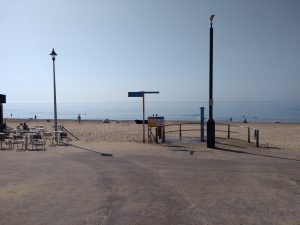 Like all of the Bournemouth and Poole beaches, this beach is much wider today than it was 30-40 years ago. This is due to a coastal defence scheme called Beach Recharge. Sand is dredged up from the sea-bed and dumped on the beach and then leveled. Slowly over time the sand is washed away by the sea. As a result Beach Recharge is an on-going process. It has to take place at regular intervals and at different locations around Bournemouth Bay every few years.
Middle Chine Beach has a lot going for it. It is less busy and more laid back than either of the other Chine beaches either side of it. It is one of my favorites.
Parking for Middle Chine (BH4 8AA and BH4 8AB)
The best parking for this beach is along West Overcliff Drive (BH4 8AA and BH4 8AB). This is standard road parking and (when I last looked) was free. The area that has this parking along West Overcliff drive is from just after the start of West Overcliff Drive at the Durley Chine car park turn-off through to the McKinley road turnoff. In fact the pedestrian access to Middle Chine is actually within McKinley road.
As it is free this parking is very popular. Especially as it can be used to access the nearby Durley Chine as well. The area of parking that is most likely to be free is the mid point between Middle Chine and Durley Chine. People hate walking!
Remember, if for some reason you need to get to Durley Chine you can always go down to Middle Chine and then turn left (east) at the end