Shore Road Beach in Poole is undoubtedly one of the finest beaches in the country. It has acres of gently sloping golden sand which enters a gently shelving seabed. It is a wonderful safe beach with many facilities including a lifeguard in the summer season.
Often this Beach gets "merged" with Sandbanks Beach. But Shore Road beach is actually managed by the council as a beach in its own right. It holds it's own Blue flag and has it's own beach office.
Most people though still regard it as simply the eastern end of Sandbanks Beach. Frankly they are not far wrong. But whatever you call it it is a great family beach.
When walking west from Flaghead Chine Beach it is easy to know when you arrive at Shore Road Beach. The promenade runs out! The end of the promenade is the demarcation between the two beach areas
Shore Road Beach: Water Sports Area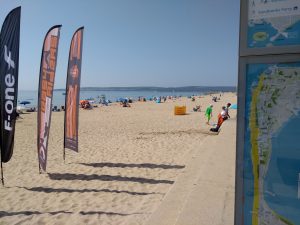 If you're into water sports and want to go kite or sailboard surfing there is a dedicated ramp area on Shore Road Beach to make water access easier and safer both for the board user and the surrounding bathers.
There are at least three ice-cream kiosks and a cafe on the beach.
All of the Blue Flag beaches have a toilet block. In fact there is just about everything on this beach for a family. That is why it is so popular.
In the high season there is serious competition for parking. The relatively small local Shore Road Car Park (below) is soon overwhelmed while the main Sandbank car park which is much larger still fills quickly.
Parking
Shore Road Car Park (BH13 7PH)
This is a car park with 72 spaces. There is also a nearby 12 space disabled parking area.
Sandbanks Car Park (BH13 8QJ)
This is a large car park with 530 spaces. Obviously is feeds the main Sandbanks beach as well. But as both beaches are more-or-less the same. The walk to Shore Road Beach Office from here is around 10 minutes.
Road Parking
There is a an element of road parking around here as long as you do not mind a few minutes walk. The majority is along the harbour side of the B3369. This gets filled rapidly and is especially popular with kite/wind surfers who use the southern end of the harbour between North Haven Yacht Club and East Dorset Sailing Club
There is also some parking in Brudenhall road and along Haven Road. All parking in the area of Sandbanks fills rapidly in the summer months so if you are arriving to go to the beach the best option is the paid car parks.